Applications Now Open for Tourism Relief Fund
The Tourism Relief Fund, administered by Canada's regional development agencies and Innovation Science and Economic Development Canada (ISED), supports tourism businesses, non-profits, and organizations to adapt operations to meet public health requirements while investing in products and services to facilitate future growth. With a budget of $500 million over two years (ending March 31, 2023), including $50 million specifically dedicated to Indigenous tourism initiatives, and $15 million for national initiatives, this fund will position Canada to be a destination of choice when domestic and international travel is once again safe by:
empowering tourism operators to create new or enhance existing tourism experiences and products to attract more local and domestic visitors
helping the sector reposition itself to welcome international visitors by offering the best Canadian tourism experiences we have to offer the world
Tourism Relief Fund projects will focus on:
Product development: For example, projects that enhance tourism experiences; help tourism businesses adapt to the "new normal" and modernize their offerings; and, encourage the adoption of more environmentally sustainable and inclusive practices.
Destination development: For example, projects that position communities to take advantage of post-pandemic opportunities through strategic planning for medium- to long-term investments, as well as supporting destination development prospects in line with objectives set out in the Federal Tourism Growth Strategy.

The natural splendour of British Columbia's Cariboo Chilcotin Coast draws visitors from around the world. While BC is a safe and enjoyable destination, we encourage all travel planners to read our guide to Safe & Responsible Travel in preparation for a visit to the Cariboo Chilcotin Coast and to stay informed while you are here.
Use our Know Before You Go page for advanced planning and keep up-to-date on ongoing resources to ensure a safe and enjoyable trip.
Click here to go the Know Before You Go page.

B.C. Campfire Ban in Effect
Effective until noon on October 15, 2021 or until the order is rescinded, campfires, Category 2 and Category 3 open fires are prohibited throughout the province of British Columbia. 
The following activities are also prohibited: Fireworks, sky lanterns, burn barrels/cages, tiki torches, binary exploding targets, chimineas, outdoor stoves or other portable campfire apparatus without a Canadian Standards Association (CSA) or Underwriter Laboratories of Canada (ULC) rating, air curtain burners in Cariboo, Coastal, Northwest, Prince George and Southeast fire centres.
Read announcement here.
FireSmart Community Funding & Supports
The First Nations' Emergency Services Society, the Forest Enhancement Society of BC and the Union of BC Municipalities (UBCM) are working with the Ministry of Forests, Lands, Natural Resource Operations & Rural Development to deliver the FireSmart Community Funding & Supports program. 
Eligible applicants:
Include all local governments (municipalities and regional districts) and First Nations (bands, Treaty First Nations and Indigenous National Governments with authority for lands and resources) in BC are eligible to apply.
May apply for up to $50,000 or $150,000, depending on their specific risk of wildfire. There are opportunities to apply for additional funding for regional districts, and for fuel management proposals that include Provincial Crown land within and adjacent to community boundaries. Information on determining risk is provided in Appendix 2 of the Program Guide.
For enquiries about the program or application process, please contact UBCM at cri@ubcm.ca or 250-356-2947.
The FireSmart Begins at Home Manual was developed to help people reduce the risk of personal property damage due to wildfires.
Download FireSmart Guides & Manuals here
View more BC Government fire prevention information and resources here

Community Futures Wildfire Business Support
Community Futures British Columbia (CFBC), in partnership with Community Futures offices across BC, is actively following the continuously evolving circumstances relating to the wildfire situation in our province. Our hearts go out to all residents and businesses impacted.
Following on the heels of an unprecedented pandemic, rural small business across this province is, once again, being tested. We understand how incredibly resilient our businesses are and want to remind the communities at risk that Community Futures is here to help navigate these incredibly challenging times.
In response, CFBC is encouraging all rural small businesses impacted to call our toll-free line and speak with our team of experienced professionals who will help to guide them through the resources currently available. In addition, a Wildfire Business Support website has been developed for businesses needing assistance maneuvering available resources.
Community Futures stands beside small business.
Community Futures' Toll-Free Line: 1- 888-303-2232
Wildfire Business Support Website: www.cfwildfire.ca
Full Media Release here.

PreparedBC: Tourism Resources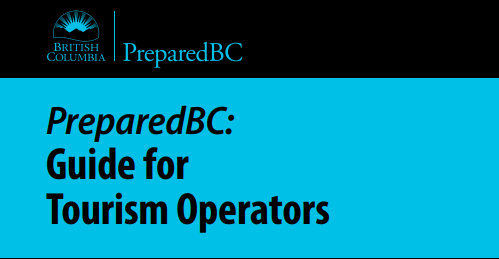 Top Ten Steps to Prepare your Business for Evacuation
If you are on evacuation alert or think you will be put on evacuation alert, there are some important steps you will want to consider. If you have an evacuation plan, review the plan and start the implementation process.
If you do not have an evacuation plan, you can review this print-friendly list of 10 things to consider for your business to prepare by the British Columbia Economic Development Association (BCEDA).
List here.

Content marketing – Publishing and Distributing Great Content
In this fast paced session Conner Galway will provide you with everything you need to know on the subject of publishing and distributing content for travel and tourism marketing. Publishing content doesn't just mean posting to Facebook. Content can take many forms – videos, blog posts, slideshows, images and you need to know what is the right content for the right audience at the right time.
Once you have great content it doesn't promote itself — you have to have a plan to maximize your distribution through different channels. You'll walk away from this session with lots of great ideas on publishing and distributing content that will make a difference in your tourism business.
Date: Thursday, July 22 @ 11:00 am PST
Click here to register.
More information here.